Brazilian Embroidery Pattern
JDR 101
"Daisy Wheel" Beginning Brazilian Dimensional Embroidery Design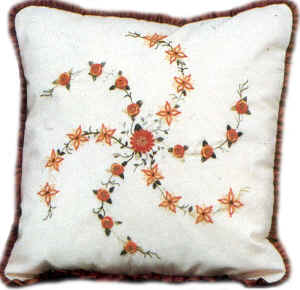 Stitch this embroidery design in yellows or reds or with any of the EdMar thread colors and it takes on a whole new look This is an easy design for a beginner who already knows the beginning Brazilian Embroidery techniques or has a beginner book available. JDR 101 Daisy Wheel Stitching Area: 11.5 x 11.5"
Intended Finished Size: 14" x 14"
Apx. Fabric cut size: 18 x 18"

Intermediate Brazilian 3-dimensional Embroidery Design Original Design by Rose Marie Diem

This design would be great in any color. A monochromatic color choice would be wonderful!
♥JDR 101 Daisy Wheel
Pattern Number JDR 101
Screen printed design guide on Trigger Fabric
Cream Fabric
$10.00
White Fabric
$10.00
Matching Fabric 20 x 20 Backing
(If making a pillow)
$3.50
---