Brazilian Embroidery Sampler Block - a great way to learn dimensional embroidery! These are wonderful as individual designs or can be put together to make a quilt.

Brazilian Embroidery
Sampler Block 10
- Learn Brazilian embroidery and incorporate the stitches into your crazy quilt!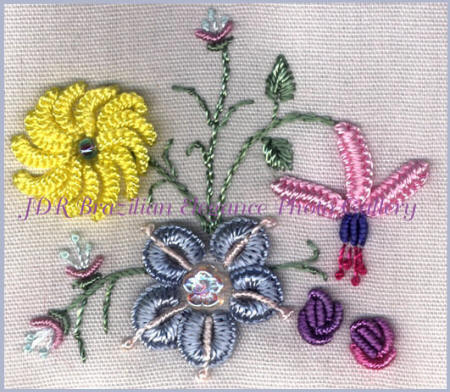 .
Brazilian Embroidery Sampler Blocks. JDR 6510 Sampler 10

Cast-on Daisy

Rolled Roses

Creeping Flower

Fuchsia

Dazzler

Greenery. Combine the squares to make a fabulous quilt sampler. Each of the designs have enough white space (fabric) around them so that you can frame them or make small pillows. The sampler blocks can also be mixed with the JDR Learning kits for more blocks for your quilt.


Registration Marks: 7" x 7"
Fabric: 10" x 10"
A Quilt Block can be cut perfectly from the 8" square up to the 10" fabric cut size
♥ JDR 6510 Sampler 10
Pattern Number JDR6510
Screen printed design guide on Trigger Fabric
Cream Fabric
$8.00
White Fabric
$8.00
EdMar Thread Packet # of Skeins 9
$9.50
Matching Fabric 10x10 Backing
(If making a pillow)
$1.00
If you prefer you may choose your own colors




---