Brazilian Embroidery Design: Spring Sachet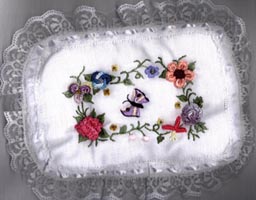 Title: JDR 158 Brazilian Dimensional Embroidery Pattern

JDR 158 Spring Sachet
Original Design by Ruth Griffith

Stitching Area: 3.25" x 5"
Intended Finished Size: 4" x 6"
Apx. Fabric Cut Size: 8 x 10"

Intermediate - Advanced Brazilian Embroidery Design
This one looks great matted and framed!
The following basic stitching directions are NOT included:
Straight stitch, Stem Stitch, French Knots, Bullions, Cast-on Stitches, Blanket Stitch, Double Cast-on Stitch, Detached Buttonhole Stitch.
If you know the basic technique for these stitches you will need no other directions.
The directions tell you how to USE the above stitches to make the flowers in the design.
♥JDR 158 Spring Sachet
Pattern Number JDR 158
Screen printed design guide on Trigger Fabric
Cream Fabric
$8.00
White Fabric
$8.00
Thread Packet # of Skeins 16
$20.75
Matching Fabric 10 x10 Backing
(If making a pillow)
$1.50
Thread Requirements : These are the colors in the sample.
Ruth's Pansy Lola 400, Iris 314
Cast-on-Flower: Lola 406
Blanket Stitch Flower: Glory 220
Dazzler: Iris 119
Frilly Rose: Lola 405
Mini Fuchsia: Lola 155, Iris 400
Four Petal Flower Glory 401
Lily of the Valley: Glory 169
Ruffled Petunia: Iris 404
Butterfly: Glory 206, 135, 125
Greens: Iris 403
If you prefer you may choose your own colors
---