Brazilian Embroidery Design
JDR 151 Summer Mini-Quilt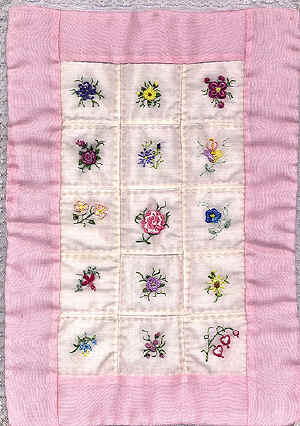 Title: JDR 151 Brazilian Dimensional Embroidery Pattern

Summer Mini-Quilt
Design Area: 6" x 10"
Intended Finished size:8 in. x 12 in.
Fabric apx. cut size: 11 in. x 14.5 in.

Brazilian Embroidery Design by Ruth Griffith. 8 pages of New Detailed Directions!

The following basic stitching directions are NOT included: Straight stitch, French Knots, Bullions, Cast-on Stitch, Detached Buttonhole, Blanket Stitch, Double Cast-On Stitch & Satin Stitch.
If you know the basic technique for these stitches you will need no other directions.. The directions tell you how to USE the above stitches to make the flowers in the design.


♥JDR 151 Summer Mini-Quilt
Pattern Number JDR 151
Screen printed design guide on cotton Fabric
Cream Fabric
$9.50
White Fabric
$9.50
Thread Packet # of Skeins 17
$21.25
This design is made entirely in Glory thread. The following 15 flower directions are included:. Dogwood 135
Vinca 142
Lady Lockets 135 &172
Rolled Rose 143
French Hydrangea 001
Mini Fuchsia 172 &135
Cast-On Flower 070
Frilly Rose 006
Cast-On Daisy 134
Ruffled Petunia 153 & 000
Aster 136
Bluebell 140 & 134
Lazy Daisy 114 & 120
April Flower 019
Gerone Daisy 007
Greens 053, 024 & 049
If you prefer you may choose your own colors

---