Title: JDR 144 Lotus Flowers Intermediate-Advanced Brazilian Embroidery Design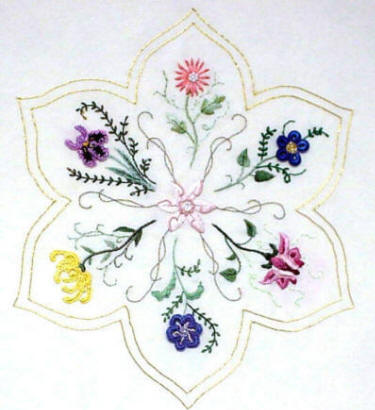 JDR 144 Lotus
Stitching Area: 10.25" x 11.75"
Intended Finished Size: 14" x 14"
Apx. Fabric Cut Size: 18" x 18"
Intermediate-Advanced Brazilian Embroidery Design
Brazilian Embroidery Design By Ruth Griffith
Directions and Graphics by Sunshine.
The directions for the following flowers ARE included:
Iris, Oriental Mum, Daisy, Dazzler, Ruffles, Baby Curls and the Wallflower.

The instructions assume an intermediate knowledge of Brazilian Embroidery.
I have included enough fabric around the edge that it leaves you many possibilities for finishing.

♥JDR 144 Lotus
Pattern Number JDR 144
Screen printed design guide on Trigger Fabric
Cream Fabric
$11.50
White Fabric
$11.50
Thread Packet # of Skeins 22
$30.50
Matching Fabric 20 x 20 Backing
(If making a pillow)
$3.50
Thread Suggestions: If you prefer you may choose your own colors
The following is a list of thread weights and colors used in the sample.
Iris Flower: Lola 207 Boucle 125 Lola 125 Iris 203
Stems: Iris 167 and Leaves. Iris 051
Oriental Mum: Stems and Leaves. Iris 304 Petals: Iris 203
Daisy: Flower - Lola 116 Stems and Leaves Iris 049
Dazzler: Iris 139 Stems and Leaves. Iris 148
Ruffles: Iris 135 Lola and Iris 220
Baby Curls: Iris 169 Iris 221
Wallflower: Iris 141, 142, 143, 221, 116 Greens Iris 167
Tendrils: Iris 109 or KREINIK
Outlines: Japan Gold
---

View Cart